Welcome To IttieBittieDesigns
IttieBittieDesigns is dedicated to offering the most stylish, high quality products, so if you're tired of giving the same ole gifts; let IttieBittieDesigns bring your vision to life! 
We offer handmade custom pieces from Apparel, Letter Decor, Party Decor, and more!  
Our dedicated team is committed to making your shopping experience enjoyable with excellent customer service.  If you don't see what you're looking for no problem, just email us and we can create what you are looking for together! We want everyone to feel special with their custom pieces.
Once again, thank you for shopping with IttieBittieDesigns!
Charise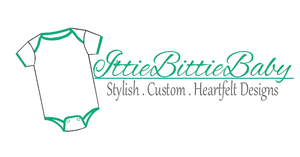 Shop Our Stylish, Custom, Handmade Children Store!!
Whether it's preparing for the nursery to purchasing their future favorite toy, one thing you won't have to worry about, is finding that perfect one of a kind piece. Check out our children's website IttieBittieBaby!!
Shop Now